November 11th - 19th, 2008
Hours: 10:00 - 19:00
BankART Mini (BankART Studio NYK 1F)
Address: 3-9, Kaigandori, Naka-ku, Yokohama, Kanagawa, JAPAN
Access : 3 min. walk from Exit6, Bashamichi Sta. on the Minatomirai Line
Inquiries : Amorfon 045-985-7818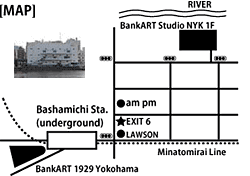 Organized by Hukazawa Art Laboratory + Amorfon
Patronized by Korean Embassy, Singapore Embassy, NPO Children Meet Artists
Supported by Japan Arts Council, National Arts Council Singapore
Cooperated by Association for Corporate Support of the Arts
In collaboration with BankART1929

Artists:
Cabu (Japan), Isamu joseph Yamazoe (Japan), Yoshio Machida (Japan), Mikyung Oh (Korea), Ria Yoo (Korea), Ha-lim Kim (Korea), Andree Weschler (Singapore/France), Ka-inn Chua (Singapore), Nadine Sawyer (New Zealand)

Events:
- November 11, 18:00- Opening Party, free

- November 15, 18:30-20:30 Performance/Symposium, free
Performer: Andree Weschler, Symposium Panelists: all artists

- November 16, Workshop "Corocoro Course ver.park"


14:00-16:00 (8-12 years old) /18:00-20:00 (adult) Charge: 1,500yen
Inquiries : hukalabo@mac.com

the park
Parks are now everywhere. Shrine and temple precincts have long functioned as parks in Japan. The oldest groomed parks are Higashi-yuenchi Park (Kobe) and Yamate Park (Yokohama) after the Meiji Restoration. Meanwhile, it is said that parks take their origin from the fact that the private hunting grounds became places for the public in Europe. During the Industrial Revolution parks were groomed and took on a new meaning as areas set aside to preserve a sense of nature in modern industrial cities.
Park is closely related with city life and mystic space. Not specialized to a specific function, it has several functions for rest, sports, communications and producing culture... From the environmental point of view, it has an important role to stop extreme urbanization. However, it is not meaningful to merely make a space; it is necessary to make it function as "park". There are some artifices to be functioned. It is a place on delicated balance.
'the park': Contemporary Artists in Asia 2008 , BankART Mini is the third exhibition in a series of group exhibitions that the artists have organized on Artists-run Initiative. The artists mainly from Singapore, South Korea and Japan have organized exhibitions (South Korea in 2003, Singapore in 2005) on their own. In Yokohama, the birthplace of park in Japan, the artists from Asian countries will express themselves uniquely in their own way for the theme "park".



Profiles of Organizers

Hukazawa Art Laboratory
Hukazawa art laboratory is a Japanese artists unit founded by an installation & planting artist Cabu and an installation & workshop artist Isamu Joseph Yamazoe in 2003. they planed,designed and conducted many workshops for children, artistic projects, planting activities, and gardening based on their original artistic senses.exhibitions: Foods and Contemporary Art part1~4 (BankART1929 '05~'08), Scotch Tape(pepper's loft gallery '07),workshops: making unmoved robots by junk appliances(expo05 Aichi Commemorative Park '06), Echigo-Tsumari Art triennial '06,publications: Corocoro Course "traveling around the OOworld"(KOKUYO)

Amorfon
Amorfon is a experimental music label and a platform for contemporary art event founded by A Japanese sound and visual artist Yoshio Machida in 2004. So far Amorfon organized "Japan-Macedonia exchange exhibition of contemporary art" (2004) and a music and movie event "Sound & Image" (2005) for introducing German artists in Japan. As a music label, Amorfon introduces un-introduced Eastern Europe artists, released the world's first CD including only performances by babies.


Participants
Cabu (Japan)
An artist who makes three-dimensional works with using things surrounding her like plants, cloth, paper, daily things and so on. She opened Hukazawa Art Laboratory/planting labo in April, 2003 and does greening activity as an artist's viewpoint.


Isamu joseph Yamazoe (Japan)
An artist who studies workshops for children as contemporary art works. He opened Hukazawa Art Laboratory (workshops for kids) in April, 2003. he teaches art workshops for children in Gunma Shorei Junior college of welfare from 2008.

Yoshio Machida (Japan)
Tokyo-based sound & visual artist born in 1967. Graduated from Tama art university in 1989. He makes "Photobatik" (his original technique) using photopaper with the themes about light and nature. He has been invited to some music festivals as a musician, organized events and art exhibitions, too.



Mikyung Oh (Korea)
Mi-Kyung Oh is a Korean young artist who was born in 1973. She studied Oriental Painting and Arts Theory in Ewha Women's University and Hongik University, and is doing the works of painting, sculpture, installation and performance in Korea, Japan and Singapore. She is usually doing her works about the female body. She has approached the body from motherhood of the Oriental perspective and sexuality of the Modern Capitalistic society. She has studied the interpretation between the female body and space in East, and used myth, traditional subjects and events.



Ria Yoo (Korea)
Yoo Ria, who works in mostly in video, shows her childhoods, family issues in old times and present status as well. Those films are collected by her but mostly taken by her family in the past time over 30years. She had several exhibitions in Korea, Singapore and Japan with companion artists. Yoo graduated from Department of Fine Art of Ewha WomenA?s University in 1995, and finished the course of Graduate school of same department.



Ha-lim Kim (Korea)
Installation artist and sculptor.Graduated from State University of New York at New Paltz with Fine Art major(MFA).Her installation work got a oriental atmosphere in material which was combined many kind of antique objects.She like to show different story in each exhibition and stage installation but every story based on her voice-sarcastic, cynical, humorous. Recently she enjoyed join international symposium & art work for Learning experience.



Andree Weschler (Singapore/France)
Andree Weschler, French, artist, living and practicing art in Asia for more than 13 years; studied Visual Arts in Singapore, Australia and Les Beaux Arts de Paris. She has exhibited in Singapore, Thailand, Malaysia, Japan, China, Korea, Australia, Argentina, Chile and London. She is interested in using her body to understand and express her ideas. The body is her tool to discover material and to become a material in itself . Her work explores the boundaries of acceptable social constructs. Andree Weschler performs in public spaces in order to challenge the general populace, to read her performance of bodily difference.



Ka-inn Chua (Singapore)
She is from Singapore and graduated from Nayang Acedemy of Fine Arts and later Curtin University of Technology. Her works are mainly about the going-ons in her everyday environments, searching inspirations among the mundane and are often of an experimental nature expressed through video and installation. She has participated in exhibitions in Singapore and Korea.



Nadine Sawyer (New Zealand)
Nadine Sawyer is a Brisbane, Australia based Artist, born in New Zealand 1973. Nadine has a Master of Arts from Monash University Melbourne, Australia, graduating in 2003. She is an Installation Artist and Painter. She has exhibited her installation series Beautiful Object Poetry in Japan, South Korea, Australia and the USA. Also exhibiting her paintings in New Zealand and Vanuatu. Living in Tokyo for two years as an artist and teacher Nadine was moved by the Japanese and their love and understanding of aesthetics. The gardens, temples, theatre, fashion and the culture in general has had a profound effect on Nadine Sawyers Art practice.
© 2008 Hukazawa Art Laboratory + Amorfon



back to the top page